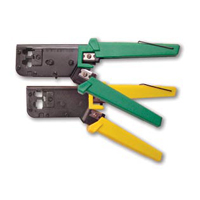 Platinum Tools 12505 Ratcheted Combo Mod Plug Crimp Tool
Condition: New
In Stock
Free Ground Shipping on orders over $99.00
Our universal modular plug combination tools are designed to provide professional results at an economical price. These compact, straight action tools provide superior performance and value. Features precision cast crimping die for superior accuracy. Built-in wire cutter and stripper for silver satin. All steel frame with rust resistant black oxide finish.

Features:
- Use for RJ11, 6P4C connectors.
- Use for RJ12, 6P6C connectors.
- Use for RJ45, 8P8C connectors.
- Not for use with AMP plugs.