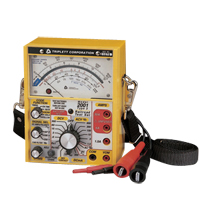 Triplett 2011 Model 2001 Railroad Test Set
Condition: New
In Stock
Free Ground Shipping on orders over $99.00
The model 2001 includes all of the features of the Model 1000 with the addition of Cab Filters. The Model 2001 was designed for passenger railroads using 100Hz and 250Hz coding systems.

Features:
- 100Hz and 250Hz Cab Filters.
- All Pass position - bypasses cab filters.
- Auto polarity in DC functions.
- Selectable EC Amps polarity.
- Direct measurement of code parameters.
- Relay contact on time (Dry Contact) requires no adjustment.
- Ohmmeter voltage mode detects either polarity voltage including AC.
- Field replaceable protective window.