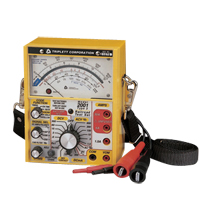 Triplett 2012 Model 2002 Railroad Test Set
Condition: New
In Stock
Free Ground Shipping on orders over $99.00
The model 2002 also includes all of the features of the Model 2000 with the addition of cab filters. The model 2002 was designed for rapid transit / commuter type railroads using 100Hz and 200Hz coding systems.

Features:
- 100Hz and 200Hz cable filters.
- All Pass position - bypasses cab filters.
- Auto polarity in DC functions..
- Selectable DC amps functions.
- Selectable DC amps polarity.
- Direct measurement of code parameters.
- Relay contact on time (Dry Contact) requires no adjustment.
- Ohmmeter voltage mode detects either polarity voltage including AC.
- Field replaceable protective window.