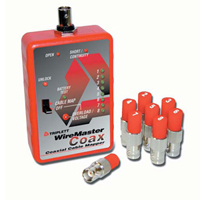 Triplett 3274 WireMaster Coax - 8-way Coaxial Cable Mapper
Condition: New
In Stock
Free Ground Shipping on orders over $99.00
Features:
- 8 remotes with BNC connectors included.
- Tests for opens and shorts.
- AC/DC overvoltage warning LED.
- 120VAC line cross protection.
- Real-time test helps identify intermittents.
- Power latch function switch to prevent accidental turn-ons.
- Use to identify coaxial cables in CCTV security and Surveillance systems, broadcast TV, Residential Video systems, and Cable TV (with F adaptors).
- Identify any pair of wires (shielded or unshielded) such as audio, video, phone lines, etc. using appropriate adapters.
- Battery self test.
- Uses 1 standard 9-volt alkaline battery.
- Includes: Padded carrying case and BNC male-to-make adapter.
- One year warranty.