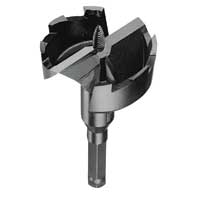 Ideal 36-255 1 3/4 in. Self-Feed Wood Boring Bit, Dia. 1 3/4"
Condition: New
In Stock
Free Ground Shipping on orders over $99.00
Introducing the new premium line of BULZ-EYE™ self-feed wood boring bits from IDEAL Industries Inc. BULZ-EYE™ self-feed bits include a number of superior features and benefits that combine to deliver the most outstanding performance of any self-feed bit product available today. The new design features twin cutting edges and precision ground teeth with up to 50% wider cutting surface. These features deliver improved cutting speeds, better balance and control and clean more accurate holes then the leading brands on the market. BULZ-EYE™ self-feed bits are manufactured with the best materials and machinery available to ensure quality, performance and durability. IDEAL is the professional's choice for self-feed bits.

Features:
- Wider precision ground teeth for maximum control.
- Robust replaceable lead screw with burr-free threads.
- Twin cutting edges for faster, more balanced drilling and cleaner holes.
- Precision machined shaft eliminates wobble resulting in accurate holes.
- Quick change shank design for fast bit changes & use with pneumatic drills.
- Black oxide coated, heat treated and hardened for improved durability.