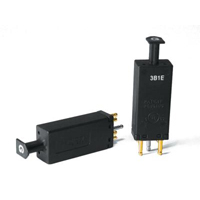 Circa 4B1E 5 PIN - Heavy Duty Gas Tube - Surge Protection Module with PTC Gold Black
Condition: New
In Stock
Free Ground Shipping on orders over $99.00
The 3B1E is a premium 5 pin, 3-element gas tube protector module that is designed to provide excellent transient and power fault protection for most standard telephone line applications.

The 3-element gas tube provides superior balanced protection. An overvoltage condition on either side of the circuit will result in the triggering of the gas tube. The ionized gas in the common chamber provides a low impedance path to ground for both sides of the circuit.

The 4 - Series features PTC (positive temperature coefficient) technology. These optional self-resetting current limiters provide effective protection from 'sneak current' faults. The PTC is vastly superior to the heat coil solution, which requires that the module be replaced after each 'sneak current' event.


| | |
| --- | --- |
| - | Heavy Duty Surge Handling Capability |
| - | Superior Common Chamber Design |
| - | Balanced Operation |
| - | UL Listed and RUS Approved |
| - | Design to Exceed Telcordia Standards |
| - | Integrated Test Points |
| - | ISO 9001 Certified Manufacturer |