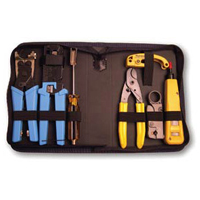 Platinum Tools 90124 Pro Twisted Pair & Coaxial Termination Kit
Condition: New
In Stock
Free Ground Shipping on orders over $99.00
This kit includes all of the necessary tools for twisted pair and coaxial terminations. It features the patented EZRJ45® Crimp Tool and the SealSmart Compression Connector Crimp Tool. Cut, strip and terminate twisted pair and coaxial cables. Use for installing telephone and data communications (Cat 5, 5e & Cat 6), CATV, Satellite TV, HDTV, Home Theater and Security. Perfect for the Residential and Commercial Structured Wiring installation professional.

Features:
- SealSmart Compression Crimp Tool.
- EZ-RJ45® Crimp Tool.
- F Connector Assembly/Removal Tool.
- Coax and Round Wire Cable Cutter.
- Cat 5 Cable Jacket Stripper.
- Universal Coaxial Cable Stripper.
- Punchdown Tool with 110 style blade and a nylon zippered case.