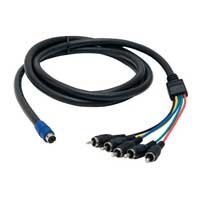 Hubbell AVRC05 AV Connector, VGA Plug-n-Play, Application Patching Run, Audio Video, 8-pin Female, 3 RCA Composite Video with L/R Audio, 5'
Condition: New
In Stock
Free Ground Shipping on orders over $99.00
X-END™ Plug-n-Play AV System is a multiple patented product offering of audio and video connections. X-END™ Plug-n-Play AV System includes twelve different modules and patch cords/tails for specific AV applications.

The X-END Plug-n-Play AV System reduces installation complexity. The factory tested horizontal cable can be easily pulled through ¾" conduit to eliminate termination and testing time.

X-END Plug-n-Play AV System provides flexibility and ease-of-use allowing 6 keystone connections or 3, 1U modules, permitting up to 30 AV connections in a single gang faceplate. Combined with the largest and most innovative delivery system product line,X-END AV System offers the simplest yet versatile solution for cabling AV equipment.

Features:
- Horizontal cable can easily be pulled through ¾" conduit without any issue
- 4" connector tail provides flexibility for installations with capacity issues
- Up to 1080p RGB (Component) Transmission
- One Horizontal Cable Accommodates 12 Different AV Applications
- Manufacturing: 100% factory tested
- AV cable design provides minimal signal loss delivering unmatched audio and video

Reliability
- Locking interface ensures mated connection

Capacity
- Small form factor allows up to 6 keystone connectors in a single gang without restriction or constraints.

Superior Strain Relief
- Over mold protects the cable and connectors during and after the installation.

Versatility
- Allows the user to swap out application patch cords and tails utilizing the same connection without change.