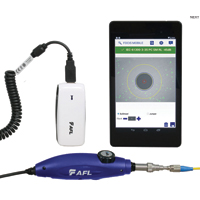 AFL FMPR-01-04XN FOCIS WiFi PRO Upgrade Kit. Includes Portable Application Link with FOCIS WiFi PRO software license, holster/belt clip, AC adapter, soft carry case
Condition: New
In Stock
Free Ground Shipping on orders over $99.00
FOCIS WiFi combines the proven fiber connector inspection and analysis capabilities of our award-winning FOCIS and FOCIS PRO systems with the familiar, powerful and easy-to-use capabilities of a smartphone or tablet. No matter where your work takes you FOCIS WiFi is as mobile, agile and connected as you are.

Three different FOCIS WiFi systems are available.


-

FOCIS WiFi PRO

- enables users to automatically analyze connector integrity according to IEC 61300-3-35, AT&T TP-76461 or user defined standards and save, recall and share results via email, text or mobile cloud applications

FOCIS MOBILE is a free companion application that users download from Google Play or the App Store to a smartphone or tablet. This application enables users to connect to and control the FOCIS WiFi system, to define system settings and user preferences and to use the smartphone or tablet to view, store and share images and test results as permitted by the system purchased.