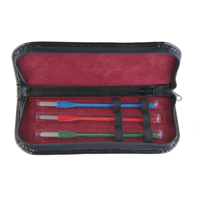 Jonard K-234 Diamond Burnisher Assortment Kit
Condition: New
In Stock
Free Ground Shipping on orders over $99.00
These diamond contact burnishing spatulas consist of uniform abrasive diamond particles, set in a special metal for precise effective cleaning, polishing and burnishing with minimum pressure, so very little metal is removed. Diamond face 1" x 1/4". Total length 6".

D-200 Coarse (grit for rapid cleaning), 0.019" Thick, two diamond faces, green shaft.
D-300 Medium (grit for intermediate size contacts), 0.017" Thick , two diamond faces, red shaft
D-400 Fine (grit for small sensitive contacts), 0.011" Thick, single diamond face, blue shaft.