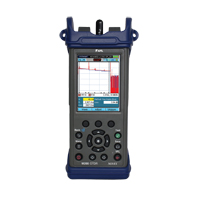 AFL M200-11-0900PR M200 OTDR (1310, 1550, SC, FC)
Condition: New
In Stock
Free Ground Shipping on orders over $99.00
The NOYES M200 OTDR from AFL combines ease of use (Touch and Test™) and functionality in a field-rugged, hand-held package. With single-mode dynamic ranges of up to 26 dB and multimode dynamic ranges of 22 dB, the M200 is ideal for testing and troubleshooting enterprise, LAN/WAN, metro, and service provider networks. Testing at 1310 and 1550 nm is normally sufficient to certify single-mode point-to-point fibers and allows the detection of macrobends. The M200 supports Full Auto, Expert (manual) and Real-Time OTDR test modes, precision event analysis, and multi-wavelength testing.
The M200 new User Interface, version 2.0, enables the user to set Pass/Fail thresholds compliant with TIA/ISO/user-defined values to alert test operators of failing or marginal events. Version 2.0 features improved file management and results review via Results Manager and a New Job creation editor with detailed job/file naming. General settings improvements include Date/Time/Number format options and an Auto Off feature. OTDR settings improvements include enhanced event measurements with various manual LSA methods available in Expert mode. The addition of a simple toggle function enables fast and logical storage of trace results from both ends of a fiber/cable. These capabilities simplify the user experience, reduce training time and testing errors enabling even novices to get the job done quickly and accurately.
The M200 with new User Interface supports visual inspection per IEC 61300-3-35 using the DFS1 Digital FiberScope allowing users the ability to view and document connector end-face images with their OTDR traces.
Thousands of OTDR test results may be saved as standard .SOR files, which can be stored internally or on the supplied USB drive. Test results are transferable via a USB cable or USB drive to a computer for viewing, printing, and analyzing with the supplied Windows® compatible software, Test Results Manager (TRM™). Acceptance reports generated using TRM can include OTDR traces with summary and event information with or without pass/fail indication, Event maps, and end-face images. With a full set of testing and troubleshooting tools including OTDR, VFL and end-face inspection capability, the M200 is a complete solution for fiber network owners and installers.
| | |
| --- | --- |
| | Features |
| - | Hand-held, lightweight - 0.9 kg (2 lb) |
| - | 22 dB (MM), 26 dB (SM) dynamic range |
| - | Inspection capable with DFS1 |
| - | Integrated VFL (650 nm) |
| - | >8 hours battery life |
| - | Touch and Test™ user interface |
| - | TRM™ reporting software |
| - | Automatic Pass/Fail analysis (TIA/ISO) |
| - | Internal and USB storage (1000s of tests) |
| - | USB host and function ports |
| | |
| --- | --- |
| | Applications: |
| - | Test, troubleshoot, Tier 2 certify: |
| - | Full Auto OTDR - document installation and fault locate |
| - | Expert OTDR - document and fault locate using Auto or Auto Once |
| - | Real-Time OTDR - locate faults and verify splices |
| - | Visibly Fault Locate - locate bends and breaks and verify polarity |
The M200 hand-held OTDR comes with a soft carry case, USB Flash drive, trace analysis software - TRM™, AC adapter, and UCI switchable test port adapters.