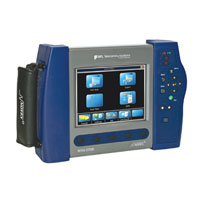 AFL M700-21U-01 M700 OTDR, SM, 1310/1550/1625nm, Soft case
Condition: New
In Stock
Free Ground Shipping on orders over $99.00
- LSA Measurements in Expert mode.
- Pass/Fail Event and Link Thresholds settings.
- OTDR results saved as industry standard (GR-196) .SOR files.
- OPM stores results and displays up to three wavelengths simultaneously.
- Large, high bright, sunlight readable, touchscreen.

Compact, full featured, single-mode OTDR
The Noyes M700 from AFL Telecommunications includes an integrated Visual Fault Locator (VFL), an Optical Power Meter (OPM) displaying up to three wavelengths simultaneously, and a large transflective touch screen display suitable for both indoor and outdoor operation.

The M700 OTDR supports Real-Time, Full-Auto, and Expert (manual) modes, precision event analysis, dual-wavelength testing, rich file naming, and an intuitive job set-up functionality. In addition to OTDR event analysis, pass/fail acceptance values, and marginal warning, specific values can be set to alert the test operator of failing or marginal events. Using one of the Least Squares Approximation (LSA) loss methods, events may be added or deleted manually.