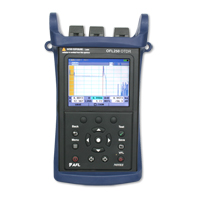 AFL OFL250-50U-ENG 1550 nm, single-mode OTDR
Condition: New
In Stock
Free Ground Shipping on orders over $99.00
The NOYES OFL250-50 is a 1550 nm single-mode OTDR with an integrated optical power meter (OPM), 1550 nm laser source (OLS), and visual fault locator (VFL) in a hand-held package weighing only 0.8 kg (1.8 lb). With short dead zone and midrange dynamic range performance, the OFL250-50 is ideal for troubleshooting dark single-mode fibers in local access, metro area, and FTTx networks.
The OFL250-50 provides automatic and manual setup, precision event analysis, 12-hour battery life, internal data storage, and USB connectivity. OTDR and OPM test ports are equipped with tool-free adapters, which can be changed in seconds.
OTDR test results are saved as industry standard .SOR files, which can be transferred to a PC for viewing, printing, and analyzing with the supplied Windows® compatible software.
Features
-
Rugged, hand-held and light weight
-
1.5 m event dead zone
-
26 dB dynamic range
-
Integrated OPM, OLS, VFL
-
Tool-free, interchangeable adapters for OTDR and OPM ports
-
Internal storage (>1000 OTDR traces in standard .SOR format)
-
High-contrast display is clear and bright in any lighting condition, including direct sunlight
-
Transfer test results to a PC via USB
-
Rechargeable 12-hour Li-Ion battery or AC power
-
Windows® compatible software to view, print,
and archive test records
| | |
| --- | --- |
| | Applications |
| - | Locate cable cuts, open or high-loss splices, fiber bends, and high-loss/high-reflectance connections |
| - | Measure optical power and loss (OPM port) |
| - | Short-range fault-location (VFL port) |
| - | Trace fibers and measure end-to-end loss at 1550 nm (working with a NOYES optical power meter or light source) |
| - | Identify fibers (working with a NOYES optical fiber identifier) |
| | |
| --- | --- |
| | OFL250-50 OTDR |
| - | Carry case |
| - | (1) SC and (1) FC adapter for the OTDR/OLS port |
| - | 2.5 mm adapter for the OPM and VFL ports |
| - | One-Click Cleaner SC/FC/ST (2.5mm) |
| - | USB cable (connects with Type A USB port on your PC) |
| - | AC power adapter |