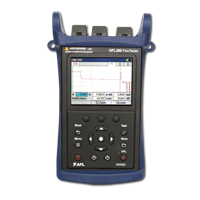 AFL OFL280-102 1310, 1490, 1550 nm Dual-wavelength OTDR/Loss test set
Condition: New
In Stock
Free Ground Shipping on orders over $99.00
The NOYES OFL280 FlexTester family offers an unmatched combination of fiber optic test functions, ease-of-use, portability, and value. All OFL280 FlexTester models include an integrated single-mode 1310/1550 nm OTDR with PON-optimized and standard test modes, optical power meter, 1310/1550 nm laser source, and visual fault locator.
For many users the two-wavelength OFL280-100 will provide the best balance of functionality and value. Testing at 1310 and 1550 nm is normally sufficient to certify point-to-point or FTTx PON fibers and allows the detection of macro bends. The three wavelength OFL280-101 and OFL280-102 models add 1625 nm or 1490 nm respectively. Testing at 1625 nm allows testing of the L band. Testing at 1490 nm is required by some network operators to certify FTTx PONs. The filtered, three-wavelength OFL280-103 can certify dark fibers at 1310/1550 nm, faultlocate live FTTx PON fibers at 1625 nm, and measure FTTx power levels at 1490 and 1550 nm, all from a single test port.
The OFL280 FlexTester user interface provides operating modes suitable for a wide range of users and features a top-down menu structure that is both easy to learn and a pleasure to use. OTDR test results may be saved as industry standard SOR files, which can be transferred to a PC for viewing, printing, and analysis using supplied Windowsฎ compatible software.
| | |
| --- | --- |
| | Applications |
| - | PON OTDR - FTTx PON construction certification |
| - | Live Fiber OTDR - FTTx service turn-up and troubleshooting |
| - | Full Auto OTDR - Normal (point-to point) fiber cable construction testing and fault location |
| - | Expert OTDR - Full function OTDR for experienced users |
| - | Real-Time OTDR - Fault location, splice verification, first connector checker |
| - | End Locator - Quickly locate breaks or measure fiber length |
| - | Optical Power Meter - Measure optical power or fiber loss |
| - | Laser Source - Measure end-to-end loss or trace fibers using the tone feature and a NOYES OFI |
| - | Visual Fault Locator - Visible red laser for fiber bend/break location and tracing |
| | |
| --- | --- |
| | Features |
| - | Rugged, hand-held and light weight (0.8 kg / 1.8 lb) |
| - | Standard OTDR, PON OTDR, live fiber OTDR, and FTTx PON meter all from the same test port |
| - | 0.8 m event dead zone, 3.5 m attenuation dead zone |
| - | 34 dB dynamic range |
| - | Fast Real Time OTDR mode |
| - | Internal storage (>1000 OTDR traces in .SOR format) |
| - | High-contrast display is clear and bright in any lighting condition, including direct sunlight |
| - | Transfer test results to a PC via USB |
| - | 10-hour operation, fast charge, Li-Ion battery |
| - | Short power-on time (<5 sec) |
| - | Easy to learn and use |
OFL280 Models
Features
-100
-101
-102
-103
Compatible with all NOYES optical power meters and laser sources (OPM/OLS), including tone and Wave ID features
•
•
•
•
Compatible with NOYES optical fiber identifiers (OFI)
•
•
•
•
Integrated hi-power optical power meter
•
•
•
•
Integrated visual fault locator (red laser)
•
•
•
•
1310 nm – OTDR, PON OTDR, laser source (CW, wave ID, tone)
•
•
•
•
1550 nm – OTDR, PON OTDR, laser source (CW, wave ID, tone)
•
•
•
•
1490 nm – OTDR, PON OTDR, laser source (CW, wave ID, tone)
•
1625 nm – OTDR, PON OTDR
•
•
1625 nm – FTTx live fiber OTDR with filtered detector for in-service PON testing
•
1490/1550 nm – FTTx PON Meter (Detects and measures downstream PON power levels)
•