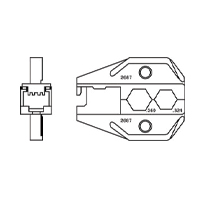 Paladin Tools PA2687 1300/8000 Series Combo RJ45 & CATV "F" Die
Condition: New
In Stock
Free Ground Shipping on orders over $99.00
- Crimps RJ45 WE/SS-style modular plugs and RG6/RG6 Quad CATV "F" connectors.
- Fits CrimpALLŽ/8000 Series and 1300 Series frames.
- Crimp style: HEX Crimp
- Type: Twisted Pair: Flat or Round Cable, Solid or Stranded Wire
- Coax: RG6/RG6 Quad Shield
- Crimp size: Coax: 0.360/0.324" HEX
- Connector style: Western Electric (WE), Stewart Stamping (SS)
- Connector type: RJ45, CATV "F"