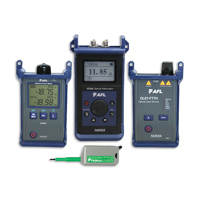 AFL TACT1-4-6D-FC Telecom Activation Kit FC Kit
Condition: New
In Stock
Free Ground Shipping on orders over $99.00
NOYES Broadband Activation Kits provide the essential tools field technicians need to install, certify, and activate single-mode broadband fiber links. Each kit includes a connector cleaner, an optical light source, an optical power meter, and a variable optical attenuator.
As cleaning is an essential part of Broadband activation, the NOYES One-Click Mini is a must-have for field technicians. Simply insert the One-Click Mini Cleaner into a connector and push until an audible "click" is heard.
The NOYES OPM4-4D Optical Power Meter simplifies installation and certification tasks by using innovative Wave ID - automatic wavelength identification capabilities to prevent setup and measurement errors. With +26 dBm input rating and 76 dB dynamic range, the OPM4-4D is ideal for passive FTTx and amplified Broadband networks.
The Noyes OLS7-FTTH Laser Light Source provides the CW, tone-modulated and encoded test signals that enable technicians to find, identify and certify fiber circuits. With just one output port, the OLS7-FTTH requires fewer test jumpers, reference measurements, and cleaning steps than other dual-output light sources.
The NOYES VOA6-SM Variable Optical Attenuator makes quick work of optical headroom testing and optical power level balancing. Its simple thumbwheel control and one-hand operation makes activation and turn-up tasks a breeze.
| | |
| --- | --- |
| | TACT1-4-6D Includes: |
| - | VOA6-SM |
| - | OPM4-4D |
| - | OLS2-DUAL |
| - | One-Click Mini SC/ST/FC |
| - | Carry cases |
| | |
| | TACT1-4-FH Includes |
| - | VOA6-SM |
| - | OPM4-4D |
| - | OLS7-FTTH |
| - | One-Click Cleaner SC/ST/FC |
| - | Carry cases |