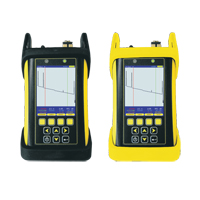 Optical Wavelength Laboratories WTO-Q OWLTrek OTDR Quad Kit
Condition: New
In Stock
Free Ground Shipping on orders over $99.00
With an unbeatable combination of a small pocket-sized form factor, a large high-resolution 2.8" color LCD display, and some of the lowest pricing in the industry, OWLTrek Quad Kit OTDRs are the WISE choice for cost-conscious buyers who need to perform basic troubleshooting or restoration tasks on multimode and singlemode optical fiber networks. All this from OTDRs that really are pocket-sized and fair priced, yet have comparable features and specifications to other OTDRs in their class.

Affordability: In a time when it is becoming increasingly difficult to justify equipping an entire technical staff with high-end equipment, companies are even more cost-conscious than before. Outfit a majority of installation/repair personnel with OWLTrek OTDRs, and set aside a few high-end "expert" devices for high-priority jobs.

Usability: OWLTrek OTDRs may be pocket-sized, but their 2.8" high-resolution color LCD display can show even the longest traces with ease. And, f Usability. or greater viewing flexibility and trace detail, OWL has implemented state-of-the-art MEMS technology which "flips" the high-resolution color LCD display between portrait and landscape mode automatically. In landscape mode, a wider viewing area means greater viewing detail.

Automatic event location: Automatic event location is an advanced feature normally found only in expensive, high-end OTDRs. With OWLTrek OTDRs, OWL now brings this feature to the entry-level OTDR market. While in event location mode, the OWLTrek OTDR marks events on the trace, and has an event table showing the location, type, reflectance level, and loss of each event, and auto-zooms to the selected event.

Two units are better than one: Most OTDR manufacturers tend to implement an inflexible approach by over-integrating four wavelengths into a single OTDR unit. OWL takes an innovative approach that very few OTDR manufacturers even consider – by including separate dual-wavelength multimode and singlemode OTDRs.

There are two key disadvantages to using an over-integrated quad-wave OTDR. First, most installer firms need to have at least two crews working simultaneously to be profitable. Second, most fiber optic jobs rarely include both multimode and singlemode fibers. So, if one crew is installing multimode and another crew is installing singlemode, it makes sense to have separate multimode and singlemode OTDRs so one crew does not have to wait on the other to finish their job.

And even with two separate units, the OWLTrek Quad Kit OTDR is still more cost-effective than other manufacturers' quad-wavelength OTDR options.

Dynamic Range Vs. Distance: OWLTrek OTDRs are capable of finding breaks in singlemode and multimode optical fibers within +/- 6 feet, out to a maximum distance of 80 miles in singlemode and 12 miles in multimode. Additional splices and other loss producing events will limit end distance estimates, which is true for all OTDRs. However, when you stop to consider that most passive singlemode Telco links are almost always less than 12 miles long, and multimode links are less than 1.25 miles long, spending thousands of dollars more for a little bit of extra dynamic range that you will probably never use is frivolous and unwise.


Optical Specifications
Model #:
WTO-M83
WTO-S35
Fiber Type
Multimode
Singlemode
Output Wavelength:
850nm
1300nm
1310nm
1550nm
Dynamic Range (SNR=1)
23 dB
26 dB
25 dB
23 dB
Distance Range
12 miles (20 kilometers)
80 miles (128 kilometers)
Event Dead Zone
2 meters (typical)
Attenuation Dead Zone
7 meters (typical)
Maximum Data Points
64000
Data Point Spacing
1 meter
Up to 64 km: 1 mete / Over 64km:
2 meters
Pulse Width
1, 2, 5, 10, 20, 50, 100 meters
1, 2, 5, 10, 20, 50, 100, 200, 500, 1000 meters
Index of Refraction
1.4000 to 1.6000
Distance Accuracy
Up to 64km: 1+ (distance meters/1000)
Number of Stored Traces
maximum trace distance: up to 200 / minimum trace distance: 3000+