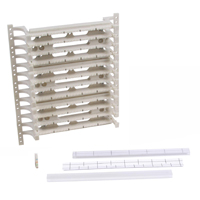 Hubbell 110BLK300FTK5 Category 5e, 300-pair, 5-pair Blocks
Condition: New
In Stock
Free Ground Shipping on orders over $99.00
Hubbell's 110 Cross Connect system is a flexible, reliable and economical, high-density system that exceeds the ANSI/TIA/EIA-568-B.2 Category 5e component performance specifications. 110 systems are used to cross connect and manage communications equipment wiring in the telecommunications closet and main distribution frames or as a consolidation point. Specifically, 110 systems are for voice and data applications where limited space prevents the use of a relay rack, or when a permanent cost-effective solution is desired versus the modularity of a patch panel.

Features:
- Cable access openings allow cables to be routed through wiring blocks directly to point of termination.
- Wiring blocks available with or without detachable legs which can be removed during or after termination.
- Field terminated patch plugs allow custom length patch cords to be assembled in the field.
- High definition color coding and tip and ring designation make conductor placement and termination simple.
- Complete Hubbell Labeling Solution includes software, laser-printable sheets, and clear covers (order separately).
- Provides a reliable, cost-effective, front terminated solution.
- Total interoperability with existing 110 systems. - Flexible solution consisting of 50-, 100-, and 300-pair wiring blocks, 4- and 5-pair connecting blocks, and a complete line of accessories.