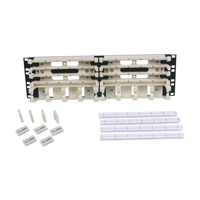 Hubbell 110RM25 Rack mount kit, 200-pair with 5-pair connecting blocks 3U
Condition: New
In Stock
Free Ground Shipping on orders over $99.00
Simplified ordering of a complete Category 6 or 5e, EIA 19" rack mount 110 cross connect field is facilitated by the use of Hubbell's rack mount 110 Field Termination Kits.

6-110 and 110 Rack Mount Kits provide a reliable, cost-effective, front terminated solution to manage communications equipment wiring in the telecommunications room when front termination is desired over the modularity of a patch panel. Rear cable access holes and increased channel width on wiring blocks allows jacketed cable to be routed from behind the wiring block close to termination helping to maintain proper pair twist.

6-110 components exceed TIA/EIA-568-B.2-1 Category 6 component specifications to accommodate today's high-performance cabling needs. 110 field termination kits are tested and verified to meet and exceed Category 5e ANSI/TIA/EIA-568-B.2 connecting hardware specifications to support both high-speed data and voice applications.


| | |
| --- | --- |
| | Features: |
| - | Unique third hand locating pins hold panel in place on rack while installing screws. |
| - | Optional rear cable organizer (HC36WF) clips to the rear of the panel. |
| - | Rolled edge construction provides superior strength during termination. |
| - | Increased Pair Isolation on 6-110 wiring and connecting blocks provides for superior NEXT performance. |
| - | Compatible with Hubbell Labeling Software and laser-printable 110 paper label sheets. |