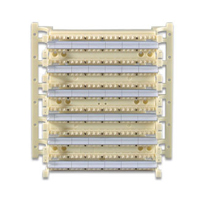 Leviton 41AB6-3F4 eXtreme 6+ 110-Style Wiring Products 288-Pair
Condition: New
In Stock
Free Ground Shipping on orders over $99.00
Levitonís 110-Style Wiring Products are perfect for quick and easy cross connects in a minimum of space. Achieve top performance and network integrity at consolidation points, even at Category 6 levels. Building a cross-connect system for voice and data is effortless. eXtreme 6+ 110-Style Wiring Blocks are available in 96- and 288-Pair units, with or without legs for wall mount applications.

A full selection of patch cords is available for easy connection to network equipment. All units meet or exceed Category 6 transmission requirements.

All kits include C-4 clips.