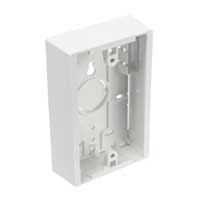 Leviton 42777-1*B Single-Gang Surface Mount Boxes, 1.45" Deep
Condition: New
In Stock
Free Ground Shipping on orders over $99.00
A single- and dual-gang housing for surface mount installation in hard wall or open office environments. Compatible with all Leviton QuickPort® and MOS flush-mount wallplates. Accommodates various raceway types.

Features
- Boxes have tie-wrap anchors at each inside raceway entry point.
- Dual-gang backbox has four fiber storage tie-wrap anchors located on base surface.
- Screws and tape provided for mounting; optional magnet retention.
- Color choice: ivory, white, grey, black. Choose color at checkout.
- Compatible with all Leviton multimedia wallplates, including QuickPort® wallplates.
- Two-piece construction.