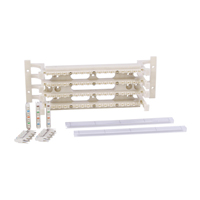 Hubbell 6110FTK64WL 6-110/64-pair with standoff legs
Condition: New
In Stock
Free Ground Shipping on orders over $99.00
Hubbell brings connectivity to the next generation of performance with our NEXTSPEED® 6-110 Cross Connect System. A high-performance wiring block system that completes our NEXTSPEED® Category 6 and NEXTSPEED® Ascent 10GbE Channel Solution by managing communications equipment wiring in the telecommunications room and main distribution frames or as a consolidation point.

Designed to support Category 6 and 10GbE cabling applications, Hubbell's NS6-110 cross connect provides a reliable, cost-effective, front terminated solution using a minimum amount of space.

Field Termination Kits, 6-110
Field termination kits facilitate easy ordering and include everything needed to assemble and configure a complete 6-110 Category 6 cross connect field. Field Termination kits are available with 64- or 192-pair wiring blocks and appropriate number of 4-pair connect- ing blocks and port identification labeling.

Termination Tool, 6-110/4-Pair
This termination tool is designed to seat 6-110/4-pair connecting blocks and terminate/cut UTP cable on 6-110 wiring blocks.

Connecting Blocks, 6-110/4-pair
Hubbell Category 6, 4-pair connecting blocks are terminated to the wiring blocks utilizing a Hubbell 6-110/4-pair impact tool. Each connecting block features high definition color coding, tip and ring markings, and angled IDC towers to make conductor placement and lacing easy.


| | |
| --- | --- |
| | Features: |
| - | Cable access holes and increased channel width allows jacketed cable to be close to termination helping to maintain proper twist. |
| - | Cat 6 field terminated patch plugs allow custom length patch cords to be assembled in the field by utilizing a labor savings snap fit design. |
| - | High-definition color coding tip and ring identification make placement easy. |
| - | Versatile solution consisting of 64- and 192- wiring blocks, 4-pair connecting blocks, field termination kits. |