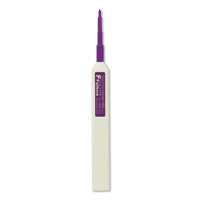 AFL 8500-05-0004MZ One-Click Cleaner ODC (outdoor connector)
Condition: New
In Stock
Free Ground Shipping on orders over $99.00
With Innovative Push-to-Clean Design

The One-Click Cleaner is an easy-to-use option for cleaning connectors on jumpers and in adapters. Simply insert the One-Click Cleaner into an adapter and push until an audible "click" is heard. The One-Click Cleaner uses the mechanical push action to advance an optical grade cleaning tape while the cleaning tip is rotated to ensure the fiber end-face is effectively, but gently cleaned. The One-Click Cleaner is a must-have for field technicians. Small enough to fit in a shirt pocket and a great addition to cleaning kits. Save your wrist – no more twist!


Rugged ODC® Version:

With the increasing demand of Outdoor Connector (ODC) plug and socket styles, the ODC One-Click Cleaner, which cleans the ferrules in ODC plug, socket and 1.25 mm ferrules, is an essential cleaning tool for WiMax Base Station, Fiber-to-the-Antenna, Broadcasting and Surveillance Video technicians.
| | |
| --- | --- |
| | Features |
| - | Cleans connectors on jumpers and in adapters; low cost per clean |
| - | Effective on a variety of contaminates including dust and oils |
| - | Ergonomic, comfortable design with single action cleaning |
| - | Automatic advance ensures each clean is performed with fresh cleaning tape |
| - | Compliant with EU/95/2002/EC Directive (RoHS) |
| - | Available with enlarged cleaning area up to 2 mm |
| - | Duplex LC version available |