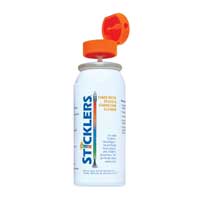 Sticklers FPF03M Fiber Preparation Fluid TravelSAFE Mini-Pump with Triton 3-Way Dispenser
Condition: New
In Stock
Free Ground Shipping on orders over $99.00
The Fiber Prep Fluid from MicroCare leads the industry for cleaning fiber before splicing. Unlike competitive solvents, this optical-grade fluid has been engineered specifically for cleaning glass fiber prior to fusion splicing or termination. Nonflammable and plastic-safe, it also is ideal for cleaning residues from connector end-face after polishing.

The cleaner is a safe, fast-drying, ozone-safe replacement for alcohol cleaners. It easily removes the buffers, dust, oil, grime and moisture from fiber optic cable.

For this product, the packaging is as important as the solvent. This product uses the unique, Triton™ 3-way dispensing valve. The Triton dispenser allows users to dampen a cleaning swab, wet a wipe, or spray the solvent all from the same package. The package is TravelSAFE™ so these pump sprays can be shipped, even by air, as non-hazardous materials which saves money. Ultra pure, this cleaner dries quickly without residues.