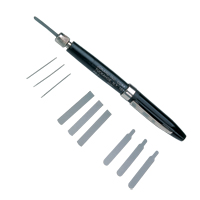 Jonard PB-3R PB-3 Plus 6 abrasive rods 0.02"
Condition: New
In Stock
Free Ground Shipping on orders over $99.00
Adjustment of flexible blade-length and rigidity is possible by varying depth in chuck. Supplied with replaceable blades stored in pen barrel at other end. Plastic barrel and cap made of sturdy plastic for dielectric work. Length 4 1/2", diameter 3/8". Blades are 3/16" wise x 1 1/2" long. Rods are 0.020" diameter x 1 1/4" long.