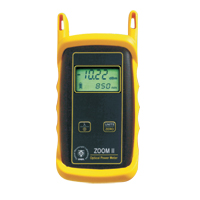 Optical Wavelength Laboratories ZO2S Silicon ZOOM 2 (Zeroed Output Optical Meter)
Condition: New
In Stock
Free Ground Shipping on orders over $99.00
| | |
| --- | --- |
| - | Silicon photo detector with 2.5mm universal adapter port (ST, SC, FC, and other 2.5mm connectors) |
| - | Multimode ready |
| - | Graphical LCD display with intuitive user interface |
| - | Simple 2-key operation |
| - | Power measurements shown in dBm, dB, or microwatts |
| - | Display resolution of 0.01 dB |
| - | Stores optical references for each wavelength to be used for optical loss testing |
| - | Long battery life - up to 250 hrs on one 9v battery |
| - | Charger port allows for wall power operation or for charging 9-volt re-chargeable batteries |
| - | Upgradeable to fiber link certification and reporting |
| | |
| --- | --- |
| | Power Meter |
| - | Measurement range +5 to -60dBm |
| - | Absolute accuracy1 +/- 0.25dB |
| - | NIST-Traceable Wavelengths 850nm |
| - | Additional Factory Calibrated Wavelengths 650nm, 980nm |
| - | Resolution 0.01dB |
| - | Linearity1 +/- 0.20dB |
| - | Dimensions 4.94 x 2.75 x 1.28 in |
NOTE: applications such as Telco and CATV only require the use of an optical power meter to measure optical power of their transmitters.
However, a majority of applications, such as optical loss measurements, will require the user to have a stabilized light source.
OWL has several test kit options using the Silicon ZOOM 2 for multimode testing.