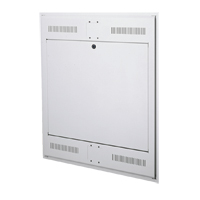 Middle Atlantic TOR-2-20SP Tilt Out Wall Surface Rack - 20"D, 2 space
Condition: New
In Stock
Free Ground Shipping on orders over $99.00
Ideal for small sound systems, paging and patching applications in schools, hotels, offices or anywhere a secure, low-profile wall mount solutions is required.

Structural Features:
- Convenient tip out design allows easy access to equipment controls
- Two models available: surface mount or flush between studs
- Tamper resistant design ideal for use in non-secure areas
- Mount non-rackmount equipment using included clamp bars
- Rackrail included for use with rackmount equipment
- Includes electrical box for 120V connections
- Rackrail is adjustable with a 1/2" to 3" recess to accommodate handles and knobs
- Available in 2, 3, or 4 rackspaces to meet the needs of a wide variety of installations
- Up to 20" useable depth
- 100lbs. weight capacity
- Durable, neutral putty finish complements the aesthetics of most environments

Thermal Management
- Engineered to provide effective passive thermal management

Cable Management
- Includes knockout to accommodate Middle Atlantic Products UPC Series universal connector panels. Mounts BNC, XLR and other popular connectors.
- Knockouts provided in back box for cable pass-through
- Abundant cable management tie points integrated throughout enclosure
- DecoraŽ knockout provided in face to mount RPS series remote power switch and other low-voltage DecoraŽ devices

Code Compliancy
- Grounding/bonging stud Facilitates the proper grounding and bonding of electronic equipment, as per NEBS and NEC standards
- UL Listed in the US and Canada

Racking Height 3 1/2" (2 space)
Maximum Useable Depth 20"
Outside Height 30 1/4"
Outside Width 24 1/2"
Outside Depth 4 7/16"