Panduit PatchRunner Wire Managers
Panduit PatchRunner High Capacity Horizontal Cable Managers provide an efficient way to manage high performance copper, fiber optic, or coaxial cables on any 19" rack or cabinet. Telescoping projection allows alignment with numerous vertical managers to maximize cable capacity. Fixed bend radius fingers organize and protect patch cords as they exit patch panels and as they transition into the vertical pathway. All of these features combine to provide the user with a horizontal cable management solution that simplifies cable routing in a finished professional appearance. When used with Panduit patch panels, patch cords, vertical cable managers, and racks, the user receives a total system that satisfies functional and aesthetic requirements for data centers and telecommunications rooms.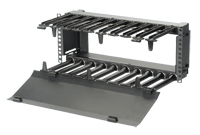 PatchRunner High Capacity Horizontal Wire Managers
The high capacity horizontal cable managers shall be a front only design capable of managing copper and fiber cables on any 19" EIA cabinet or rack. These managers shall be constructed with a steel frame and molded plastic fingers. The manager shall retain cables in a horizontal pathway while providing .350" (9mm) bend radii between each finger and at each end finger. The high capacity managers shall have a telescoping projection from the rack mounting face of 4.4" (112mm) to 7.6" (193mm) and an open back for pass through from the front to the back of the rack. A metal, hinged cover that opens 110 degrees either up or down allows full access to the cable pathway and shall be standard on these managers. These managers will be capable of being installed on top of each other in a rack without the opening and the
Space Optimized, High Capacity Cable Management Systems Panduit builds on years of experience as a leader in cable management, integrating best practices and application knowledge to develop highly reliable and efficient physical infrastructure solutions. Panduitís comprehensive offering of vertical cable management, horizontal cable management, and rack solutions reduces space required to route, manage and protect high cable capacities, providing the lowest total cost of ownership. These product sets can be combined to provide an optimized solution for virtually any application.