Panduit NetManager Wire Managers
NetManager
High Capacity Horizontal Cable Management Panduit NetManager High Capacity Horizontal Cable Managers provide an efficient way to manage high performance copper, fiber optic, or coaxial cables on any 19" rack. Fixed inset fingers on the front and back allow easier access to the ports for moves, adds, and changes. Fixed bend radius fingers organize and protect patch cords as they exit patch panels and as they transition into the vertical pathway. All of these features combine to provide the user with a horizontal cable management solution that simplifies cable routing in a finished professional appearance. Managers are available in front and rear and front only.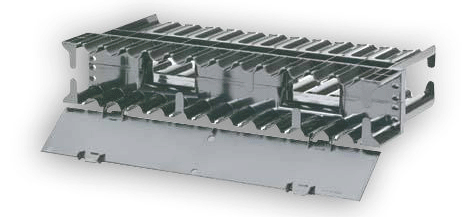 NetManager High Capacity Horizontal Wire Managers
• Innovative inset fingers slope inward toward back of managers offering unobstructed access to network cabling for easier moves, adds, and changes
• Large front finger openings easily accommodate Category 6A and Category 6 cables, speeding installation and reducing maintenance costs
• Rear cable management finger spacing utilizes openD-rings for greater accessibility
• Can be used to create large capacity horizontal pathways for routing cable
• Front and rear dual hinged cover allows cable access without removing cover
• Built in cable retainers hold cable in place for easy moves,adds, and changes
Space Optimized, High Capacity Cable Management Systems Panduit builds on years of experience as a leader in cable management, integrating best practices and application knowledge to develop highly reliable and efficient physical infrastructure solutions. Panduit's comprehensive offering of vertical cable management, horizontal cable management, and rack solutions reduces space required to route, manage and protect high cable capacities, providing the lowest total cost of ownership. These product sets can be combined to provide an optimized solution for virtually any application.