Panduit Wire Managers
Panduit PatchLink Horizontal Wire Managers are designed to manage high performance cable, specifically Cat. 5e and Cat. 6, on any EIA 19" rack. Manager consists of a 1-piece construction that is molded out of plastic with rigid end fingers that incorporate integral bend radius control. Managers are available in front and rear and front only. All managers include hinged covers and mounting hardware.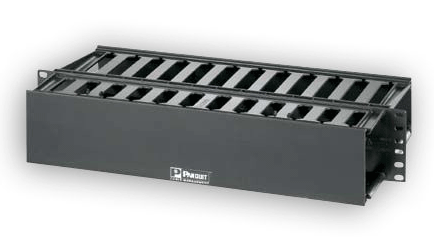 • Dual-hinged cover allows cable access withoutremoving cover

• Rounded edges on fingers protect cables from snags and damage to cable

• Flexible fingers allow easy installation and removal of cables

• Pass-through holes allow front to rear cabling

• Covers and #12-24 mounting screws included

• Bulk package options minimize packaging on-site



Space Optimized, High Capacity Cable Management Systems Panduit builds on years of experience as a leader in cable management, integrating best practices and application knowledge to develop highly reliable and efficient physical infrastructure solutions. Panduit's comprehensive offering of vertical cable management, horizontal cable management, and rack solutions reduces space required to route, manage and protect high cable capacities, providing the lowest total cost of ownership. These product sets can be combined to provide an optimized solution for virtually any application.