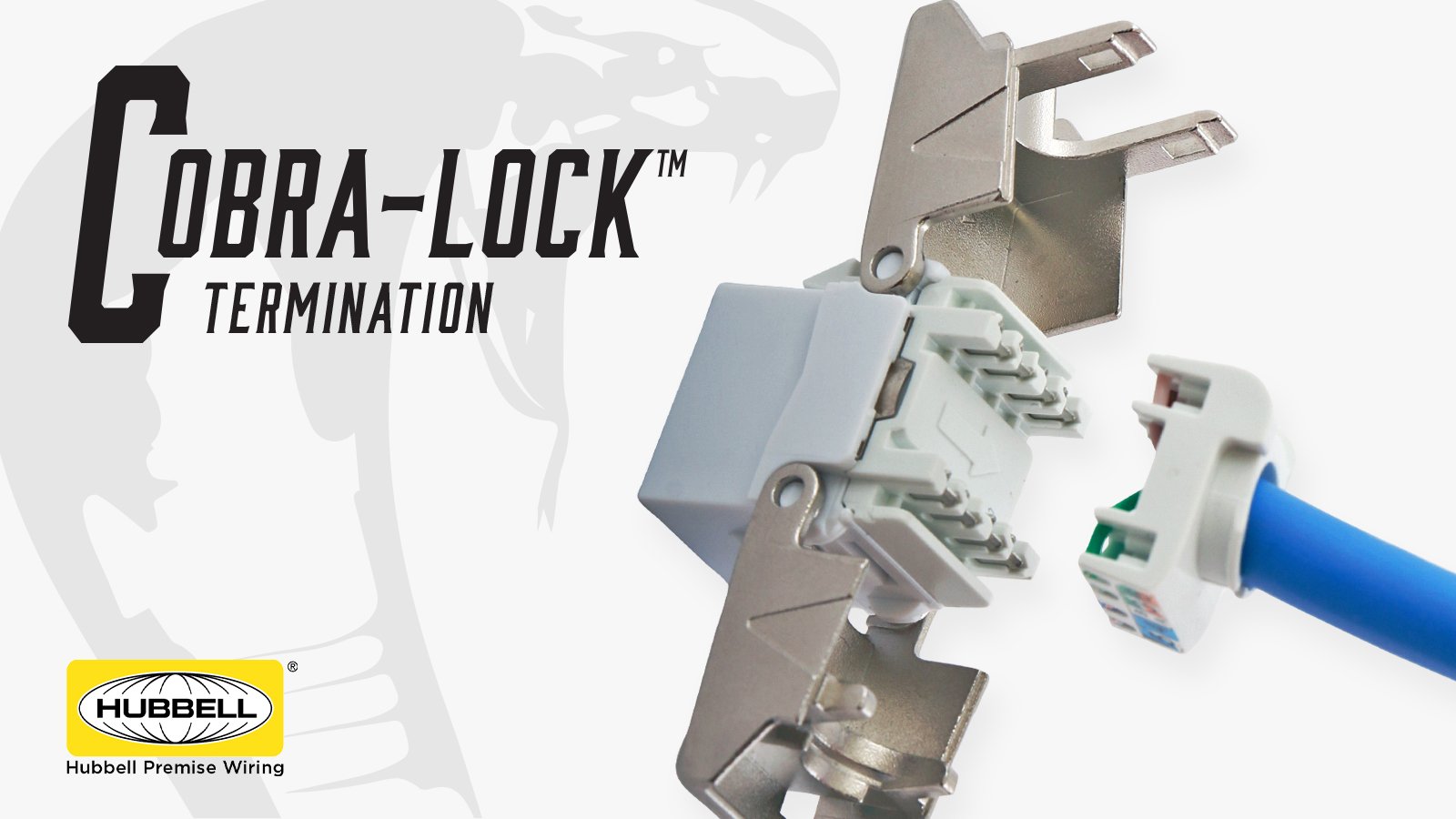 Rapidly growing numbers of high-bandwidth applications requiring 10GBASE-T are demanding more Category 6A connectivity to support greater reach and flexibility.
While Category 6A cabling offers excellent performance, it can also create installation challenges. For starters, it's stiff and heavy, which stresses traditional punch-down terminations and leads to an increased chance of post-installation opens. How can you take advantage of Category 6A performance levels while also ensuring an efficient, quality installation that won't require lots of rework?
To help solve this problem, Hubbell Premise Wiring developed its Cobra-Lock™ Termination solution to better secure terminations under constant compression. It also provides a quicker, more repeatable termination process that reduces technician variability and the likelihood of human error.
Here's how it works: Cobra-Lock utilizes a removable wire manager to orient and hold wires in place. The wires are cut flush with industry-standard flush cutters. Then, the wire manager is inserted into the rear of the jack. Cobra-Lock jaws are closed by hand and locked in place.
Cobra-Lock makes the installation of Category 6A cable faster and easier in three ways.
Improves Termination Speed
Increasing termination speed empowers installers to complete more projects on time. By terminating all eight conductors at once with a simple squeeze of the jack body, Cobra-Lock Termination reduces termination time by roughly 75% over a traditional punch-down termination. Individual wires no longer need to be terminated individually, which lets installers complete more drops per hour and tackle larger projects in less time.
Enhances Reliability
Hubbell prioritizes reliability in every solution it creates – and Cobra-Lock Termination is no exception.On the electrical side, our connectivity is third-party verified on a quarterly basis to surpass all TIA transmission performance standards. It's also covered by a 25-year application assurance warranty, ensuring that our systems will support any current or future IEEE application designed to run over the channel.
Mechanically, the Cobra-Lock Termination holds each wire in place under constant compression. This virtually eliminates future opens due to cable or equipment movement.

Electrical and mechanical performance come together in the contacts that mate with the patch cord plug. These contacts not only mechanically support more than 750 traditional plug insertions, but they also pass the recently revised IEC 60512-99-002 test for de-mating under PoE power load. This minimizes installer callbacks and boosts end-user confidence in network infrastructure, knowing it will stand the test of time.

Reduces Labor and Costs
Both termination speed and reliability improve installer efficiency. Speed allows projects to be completed faster. Reliability leads to fewer callbacks, freeing up time for installers to dedicate to new work and other projects.Cobra-Lock Termination reduces material costs for installers so they no longer need to invest in costly termination tools. Why? Because the jack is the tool. Additionally, Cobra-Lock eliminates tool misalignment and reduces variability between technicians. Finally, a Cobra-Lock termination can be performed up to 25 times, allowing jacks to be reused as needed.
For More on Hubbell Cobra-Lock Category 6a Jacks click here