Best-In-Class Termination Time and Reliability
Fast deployment and superior reliability are of the utmost
importance in today's fiber networks. While fiber field terminations offer
the flexibility to meet a variety of installation scenarios, they need to be
quick and easy while ensuring consistently high
performance connections.  With its patent-pending termination tool and pre-polished mechanical splice connectors, the LightBow Fiber Optic Termination System significantly
reduces termination time, prevents fiber end face contamination
and air gaps, and enables easy verification of termination quality.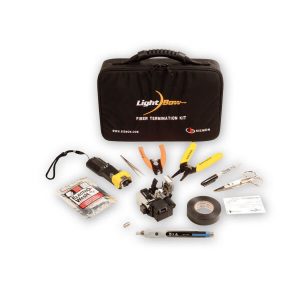 LightBow Fiber Termination Kit
Siemon's LightBow mechanical splice termination kit
includes the patent-pending, easy-to-use
termination tool, as well as all the implements and
consumables required for termination – all in a
convenient carrying case.
Includes:
– Patent-pending termination tool
– Precision cleaver
– VFL and VFL 1.25mm adapter
– Strippers, scissors and tweezers
– Strip template and marker
– Alcohol and electrical tape
FT-LB-KIT: $1635.00 Click Here to Buy
LightBow Pre-Polished Connectors
Combined with Siemon's exclusive patent-pending LightBow termination tool, Siemon LightBow pre-polished mechanical splice connectors can be deployed with unsurpassed termination speed and quality via a built-in VFL verification window and the ability to adjust or reterminate.
Available in both LC and SC configurations, these connectors support both multimode and singlemode versions of Siemon's XGLO and LightSystem solutions.
FC1-LB-LC5-9AQ LC simplex connector, aqua, 50/125mm MM (OM3/OM4), 900mm buffered fiber, white boot $12.50
FC1-LB-LC6-9BG LC simplex connector, beige, 62.5/125mm MM (OM1), 900mm buffered fiber, white boot $11.95
FC1-LB-LCA-9GR LC simplex connector (APC), green, SM (OS1/OS2) 900mm buffered fiber, white boot $16.67
FC1-LB-LCU-9BL LC simplex connector (UPC), blue, SM (OS1/OS2), 900mm buffered fiber, white boot $15.35
FC1-LB-SC5-9AQ SC simplex connector, aqua, 50/125mm MM (OM3/OM4), 900mm buffered fiber, white boot $12.50
FC1-LB-SC6-9BG SC simplex connector, beige, 62.5/125mm MM (OM1), 900mm buffered fiber, white boot $11.80
FC1-LB-SCA-9GR SC simplex connector (APC), green, SM (OS1/OS2), 900mm buffered fiber, whtie boot $16.75
FC1-LB-SCU-9BL SC simplex connector (UPC), blue, SM (OS1/OS2), 900mm buffered fiber, white boot $15.35