The EZ-RJ45 crimp tool  the simplest way to terminate category 6 plugs onto category 6 cable.
The electrical performance is optimized by pulling the connector over the jacket tightly.  This reduces the distance between the conductors and the contacts.  The EZ-RJ45 Crimp tool Crimps and trims the excess in one easy step.
Simply cut the jacket back
– Arrange the wires in the wiring order needed
– Slide the wires though the plug
– Twist the conductors so when you crimp the plug the mess is easily cleaned up
– Crimp and you have a perfectly done Category 6 plug

A tip for separating the wires is to use the stripped cable jacket and slide the wires in between the pairs.  Untwist the conductors by pushing the wire in the opposite direction.  When you reach the end, pinch the wire inside and pull back towards you.  This also reduces stress on your fingers.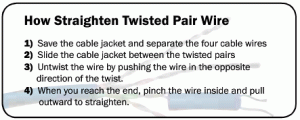 Chris