The problem – Where is the other end plugged into?
The Solution
Patch see Category 5e and category 6 copper patch cords with built in fibers for easy identification.
Integrated with two plastic optical fibers running though the RJ45 cables so that each end can be identified via light "see the light"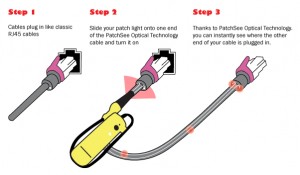 How it works
The light is transmitted by two Plastic Optical Fibers(POF) running through the length of the cables which are bent back at 180° inside the boots at each extremity.
The POF are maintained in accessible position by a plastic boot and along the inner sides of the cable to carry the light injection. The transmission of light does not disturb the electric performance in any way.
The light is injected by the PatchLight or PRO-PatchLight which is placed over the boot at one end of a patch cord in use. The other end of the patch cord is identified thanks to the two luminous dots.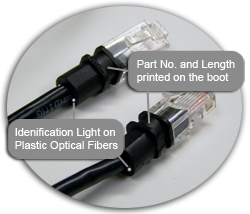 Click here for more information on Patchsee Patch cords